A unique Care Bar range opens an entirely new dimension of systematic self-care turning it into a delicate daily pleasure. Care Bars demonstrate innovation far beyond the known in the nutrition bar category. Our expert team once again outdid itself and created exceptional combinations of clinically and scientifically proven functional ingredients to help us tackle the major long-term health concerns triggered by our busy and stressful lifestyles. All wrapped up in a tasty bite of goodness.
Groundbreaking innovation in the nutrition bar category
No matter, if targeting an ongoing need for better mental performance, physical regeneration as we age, or simply a need for stronger immunity, and balanced digestive health – Care Lab's blends always deliver the best wrapped into unique combinations of fruit jams, a decent pinch of floral aromas, oat and cashew paste, crispy nuts, and the premium chocolates for that very special mouth-watering feel.
Care Bars simply aren't just another addition to the already saturated category of protein bars. Their innovative advantages extend far beyond any popular protein snacks currently available.
COGNITIVE Care Bar unlocks the brilliance of the mind
The proprietary blend of active ingredients was carefully formulated by our expert team to enhance cognitive abilities, increase brain energy levels, and improve memory. Not only does this formula improve overall brain performance, but it can be potentially beneficial to slow down memory loss due to aging.
The game-changer snack featuring Cognizin® Citicoline, L-theanine, Magnesium L-Threonate, and MCT-Oil with a delightful fusion of Black Currant Jam, Lavender, and Crispy Caramel defines a new direction for functional bar innovation.
The real taste of vitality comes with Care Bar RESTART aimed at your physical regeneration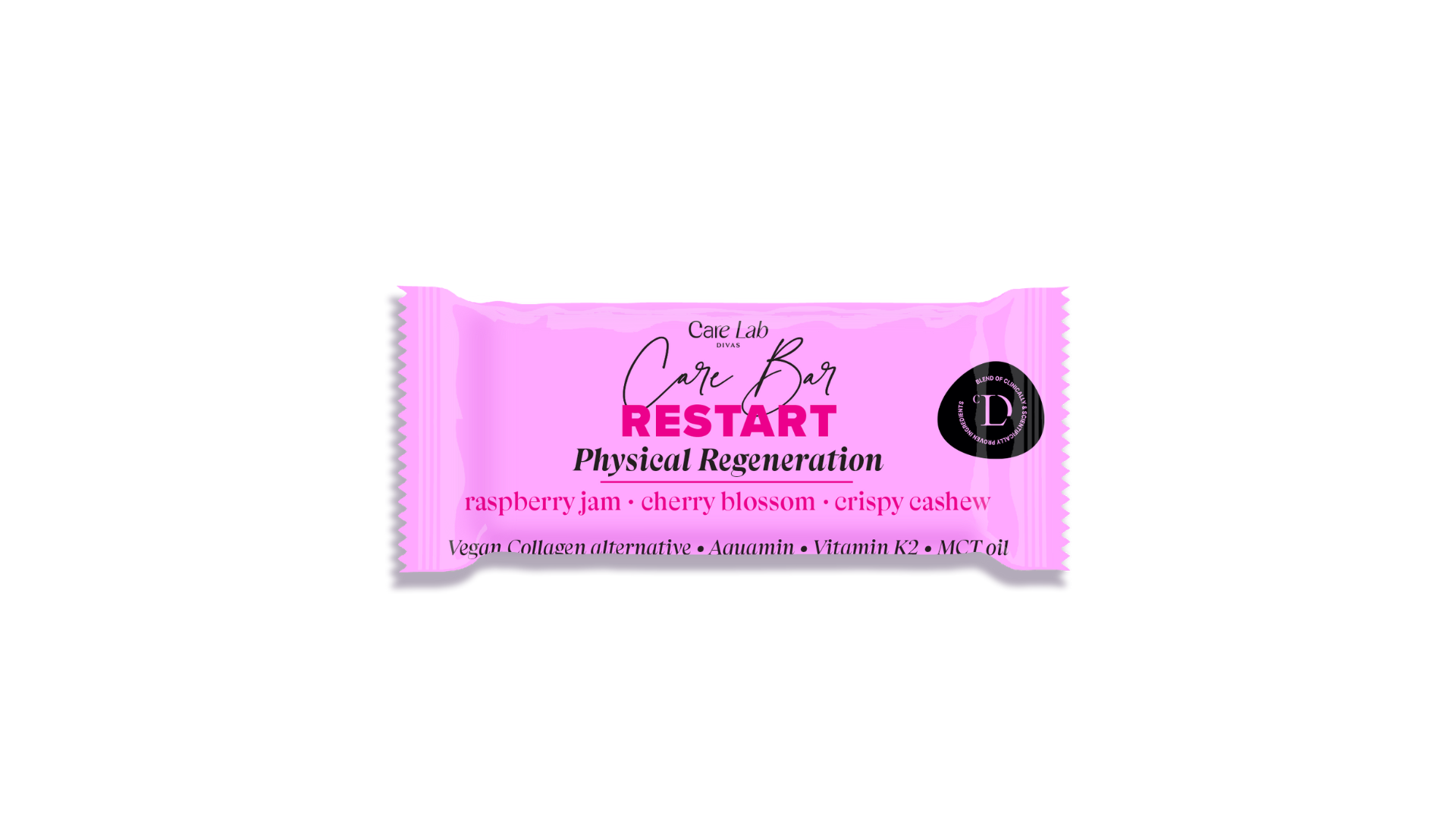 The powerful formula of Care Bar RESTART represents the unique application of the worldwide first science-backed and clinically proven Vegan Collagen Alternative – Vecollal® with 74 Sea Minerals, Vitamin K2, and MCT oil delivered in a very convenient and tasty form.
The first cruelty-free collagen alternative made of 19 amino acids proved higher efficacy than animal-sourced collagens. Bioactive sea-mineral blend rich in calcium and magnesium covers a wide array of benefits from strengthening bones and joints being the biggest.
The captivating symphony of Raspberry Jam, Cherry Blossom, and Crispy Cashews comes 100% suitable for vegans.
The Care Bar IMMUNITY caters to microbiome balance and immunity activation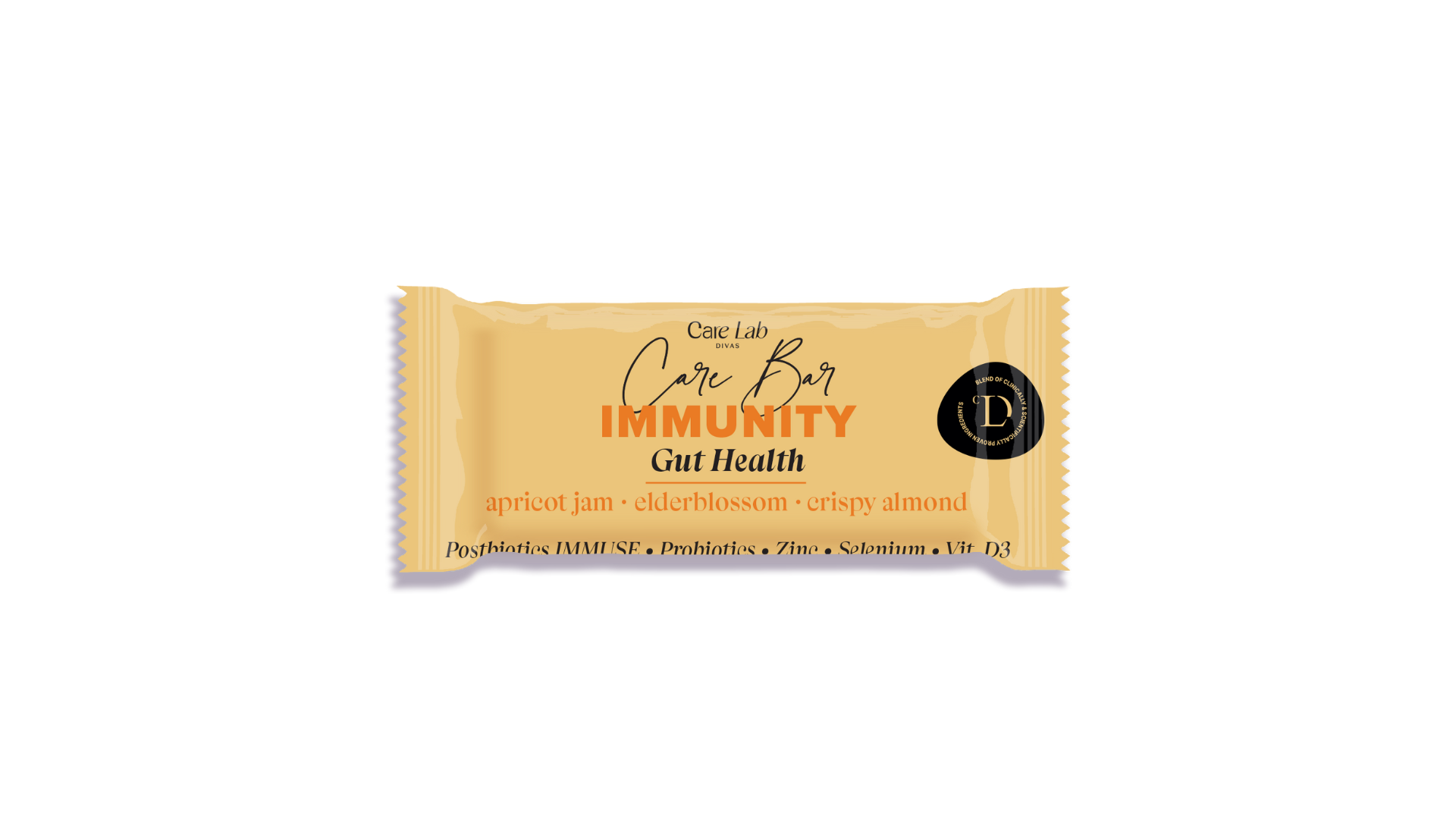 Can you imagine a tastier immunity boost and a more soothing hug for your gut than the Care Bar with Apricot Jam, Elder Blossom, and Crispy Almond? This extraordinary treat is your gateway to a balanced microbiome and immunity activation through a unique blend of pro- and postbiotics with the well-known combo of Zinc, Selenium, and Vitamin D2.
Innovative postbiotic Immuse® grants the IMMUNITY Care Bar something unseen in the nutrition bar category. Backed by more than 30 studies, every bit of this snack makes a unique addition to immune system activation on pDC cell level.
Committed to improving your self-care experience
As previously stated, Care Bars are not just another protein addition to healthy product shelves. They pave an entirely new way toward effective care for the body and mind with a delicious experience.
"Care Bars are a testament to our commitment to your well-being. We believe that rather than being a stone-written habit or routine, self-care should become a daily pleasure for everyone. Coming from CARE LAB, the Care Bars are another proof that functional and healthy products can be turned into a real mouth-watering delight," says Lucia Tarnoczy, CEO of CARE LAB Divas.